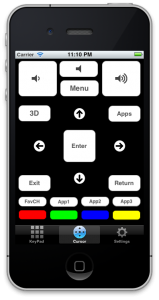 We just launched Mike's Remote, an iPhone App for Sharp® Aquos and Elite TVs.  I had a lot of fun working with Mike on the development. I did requirements gathering with input on the functional specs. I also developed the very simple graphics(I am no graphic designer) and we also did a demo video. It all is so easy when you have a Mac.
I am  now doing some guerrilla marketing on a limited budget.
A fun little side project.